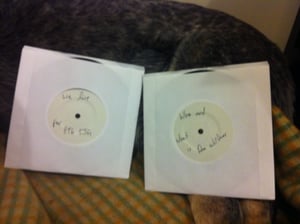 $

25.00
Lonely Wholesome "Vanity"/"Lethargy" 7"
So, Fucked Up were over in Australia in Feb and i finally got to meet Jonah when they played at the Ding Dong Lounge. I got him to sign some records in the hope that some of you kind folks will buy it!
I've got 7 signed/decorated copies of the 7" on black vinyl. These are test pressings with a small centre hole...the final pressing had a large centre hole.
Much like the signed copies of the finished single I have for sale, I say 'signed'...Jonah sat down with a sharpie and wrote some odd things on the blank labels! Once these are gone, they're gone, so move quick!
Listen here: https://soundcloud.com/jonahfalco
Shipping within Australia is $1.50. Everywhere else is $8.00. If shipping to your country is not shown, drop me an email for a shipping quote, i'll keep it cheap as I can...promise x